Type:
Perennial
Seed #:
42 ( Edit )
Common Name:
Giant Yellow Scabiosa
Latin Name:
Cephalaria gigantea
Variety:
Giant Yellow
Colour:
Yellow
Temperature:
18C - 25C (64F - 77F) (Zone 4)
Zone:
4
Blooms:
June to September
Site:
Full Sun or Part Shade
Height:
30cm - 65cm (12" - 26")
Spread:
30cm - 60cm (12" - 24")
Quantity:
35 Seeds
Price:
$3.33

Attracts
Butterflies
Great
Cutflower
Drought
Tolerant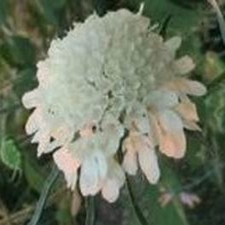 Notes: A rarely seen, bold plant for large beds and borders. 1 - 2 ft. clump forming plant with large deeply lobed leaves that produces a profusion of pale yellow pincushion like flowers, on stems that reach 6 to 10 feet. Attract butterflies and other nectar lovers to your garden. Good drought tolerant, cut flower with a long bloom period and vase life when flower is harvested just as it is opening.


Instructions: Plant 1 to 2 mm deep. Germinates in 21 to 28 days.