Type:
Perennial
Seed #:
421
Common Name:
Evening Primrose
Latin Name:
Oenothera biennis
Colour:
Lemon Yellow
Temperature:
18C - 21C (64F - 70F) (Zone 4)
Zone:
4
Blooms:
June-Frost
Site:
Full Sun/Part shade
Height:
180cm - 150cm (71" - 59")
Spread:
20cm - 30cm (8" - 12")
Quantity:
100 Seeds
Price:
$3.99

Attracts
Butterflies
Scented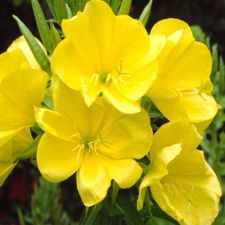 Notes: Native to Eastern North America this easy-growing plant has yellow, slightly phosphorescent flowers with a modest lemon scent that open in the evenings. All parts of this plant are edible; flowers as a salad garnish leaves cooked as greens and the roots boiled like potatoes. Provides flowers from summer to frost.


Instructions: Instruction: Surface sow or barely cover seeds. Germ. 7-28 days


Habitat: Full Sun. Grows on roadsides in meadows and dry gravelly areas.


History: Seeds were used by the Lakota Indians as an aromatic, mixed with other herbs as a stimulant; the Cherokee used the leaves for tea to cure obesity and the Ojibwa made a tea of the whole plant to apply to bruises. Is an excellent way to attract butterflies and hummingbirds like a magnet.