Type:
Vegetable
Seed #:
424 ( Edit )
Common Name:
Beans - Tiger's Eye
Latin Name:
Phaseolus vulagaris
Variety:
Tiger's Eye
Colour:
Orange and Red
Temperature:
18C - 20C (64F - 68F) (Zone 2)
Blooms:
70 - 80 days
Site:
Full Sun
Height:
60cm - 100cm (24" - 39")
Spread:
5cm - 10cm (2" - 4")
Quantity:
20 Seeds
Price:
$4.00

Attracts
Butterflies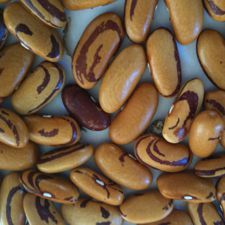 Notes: Considered Rare-Beautiful orange beans with maroon red stripes and spots. This bean has very tender skins and a creamy smooth texture and rich flavour. Excellent fresh or dried in chilis and refried bean dishes.


Instructions: Direct seed 3 to 5 mm deep when the temperature is as stated below or sow indoors and transplant when temperatures outdoors are 18 to 20 degrees.


Habitat: Full Sun


History: This beautiful bean originated in South America. Chile and Argentina


Medicinal: Excellent source of protein, Thiamin, Riboflavin, Niacin, Vitamin B6, Calcium, Iron, Magnesium, Potassium and an alternative source of Dietary Fiber, Vitamin A, Vitamin C, Vitamin K, Folate and Manganese.