Type:
Perennial
Seed #:
43
Common Name:
Sweet Oxe Eye
Latin Name:
Telekia speciosa
Variety:
Species
Colour:
Yellow
Temperature:
18C - 25C (64F - 77F) (Zone 9 & up)
Zone:
9 & up
Blooms:
June to July
Site:
Part Shade
Height:
30cm - 200cm (12" - 79")
Spread:
30cm - 60cm (12" - 24")
Seeds per pack:
50
Price:
$0.00

Attracts
Butterflies
Great
Cutflower
Deer
Resistant
Drought
Tolerant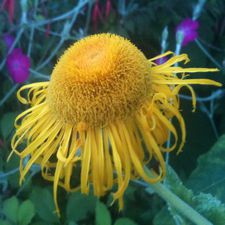 Notes: Clump forming plant with large hairy heart shaped aromatic leaves reminiscent of cane sugar. Attracts butterflies and beneficial insects with 3.5 in. bright yellow fuzzy flowers on 4 to 6 ft. upright stems. An easy care standout that does well in moist areas and shade.


Instructions: Do not cover. Keep moist. Germination is 21 to 28 days.