Type:
Annual
Seed #:
451
Common Name:
Morning Glory
Latin Name:
Ipomoea purpurea
Variety:
Grand Pa Ott
Colour:
blue
Temperature:
15C - 20C (59F - 68F) (Zone 2)
Blooms:
90 days
Site:
Full Sun
Height:
300cm - 400cm (118" - 157")
Spread:
30cm - 35cm (12" - 14")
Quantity:
25 Seeds
Price:
$3.33

Attracts
Butterflies
Deer
Resistant
Drought
Tolerant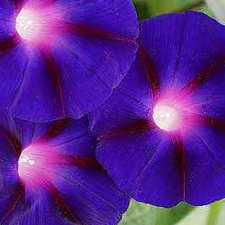 Notes: Vibrant electric purple flowers with a red star on the face and a pink and white throat. These vining plants can grow to 15 ft and are not picky about the soil. An annual plant that makes a statement. May self-sow but is not as invasive as the white-flowered bindweed that is often mistaken for this variety.


Instructions: Soak seeds for best results. Direct sow 10 mm deep. 7 to 21 days germination.