Type:
Vegetable
Seed #:
456 ( Edit )
Common Name:
Onions - Evergreen
Latin Name:
allium cepa
Variety:
Nebuka (white bunching)
Colour:
white
Temperature:
10C - 29C (50F - 84F) (Zone 2)
Blooms:
65 to 120 days
Site:
Full Sun
Height:
20cm - 25cm (8" - 10")
Spread:
10cm - 12cm (4" - 5")
Quantity:
125 Seeds
Price:
$3.33

Deer
Resistant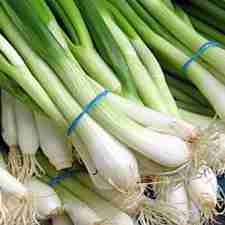 Notes: This non-bulbing onion is the perfect green onion for fresh eating. Produces clusters of five to ten inch long stalks. Grow in light, friable soil for best results. Start in early Spring. Plant as spacing say below, with rows 4 to 6 inches or 10 to 12cm apart. This variety is also known as Nebuka.


Instructions: Sow 3 to 6 mm deep in early Spring. 3 to 13 days to germinate.


Habitat: It is advised not to plant onions near peas, beans, parsley and leeks. However, carrots, beetroot, cabbage lettuce and tomato really appreciate their company in the garden.