Type:
Perennial
Seed #:
46
Common Name:
Alyssum
Latin Name:
Alyssum saxatile
Variety:
Gold Dust
Colour:
Yellow
Temperature:
13C - 25C (55F - 77F) (Zone 7 & up)
Zone:
7 & up
Blooms:
May to June
Site:
Full Sun
Height:
20cm - 25cm (8" - 10")
Spread:
10cm - 15cm (4" - 6")
Seeds per pack:
50
Price:
$4.00

Attracts
Butterflies
Deer
Resistant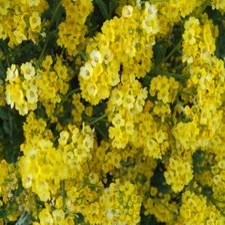 Notes: Brilliant golden yellow, hardy, low maintenance, drought tolerant and deer resistant perennial for borders and rock gardens. Creates masses of bright golden yellow flowers on low growing plants in May. Great for early color in your Spring garden.


Instructions: Surface sow. Needs light to germinate. 25 to 30 days.