Type:
Herb
Seed #:
480
Common Name:
Navajo Tea
Latin Name:
thelesperma filifolium
Variety:
Navajo
Colour:
yellow
Temperature:
18C - 20C (64F - 68F) (Zone 2)
Blooms:
June to September
Site:
Full Sun
Height:
25cm - 35cm (10" - 14")
Spread:
25cm - 25cm (10" - 10")
Quantity:
50 Seeds
Price:
$3.33

Attracts
Butterflies
Deer
Resistant
Drought
Tolerant
Scented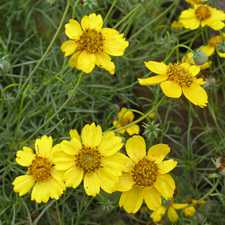 Notes: Native to the mountainous southwestern US up to Alberta. Also known as Hopi tea and green thread because of its narrow leaves. Produces yellow coreopsis like blooms and its bright yellow colours can be used as a natural dye. Flowers belong with leaves and stems during harvest. Also, use all parts as a tea which has a slightly smoky flavour and light jasmine scent. Drought and deer resistant. Consult a physician before using medicinally.


Instructions: If sown indoors, be sure to store in your fridge for a 14 - 45 stratification period. This will vastly improve your germination rates. In warmer climates, where solid freezing is uncommon, sow outside in fall to early spring on the soil surface or just dust lightly with soil. 3-4 weeks to germinate. 65 days until you harvest your very own tea. Add lemon balm or lemon verbena leaves as a natural sweetener.


Medicinal: Historically used to clean kidneys, settle stomachs, purify the blood, like a toothache remedy, an anti-inflammatory and stimulant.