Type:
Annual
Seed #:
485
Common Name:
Poppy - Pom Pom white
Latin Name:
Papaver
Variety:
White Pom Pom
Colour:
white
Temperature:
18C - 20C (64F - 68F) (Zone 2)
Blooms:
June to September
Site:
Full Sun
Height:
45cm - 50cm (18" - 20")
Spread:
35cm - 50cm (14" - 20")
Seeds per pack:
0
Price:
$0.00

Attracts
Butterflies
Great
Cutflower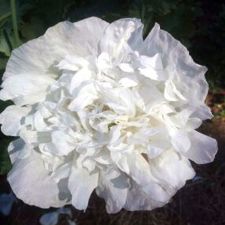 Notes: Multi-petaled, brilliant flowers. Very easy to grow plants, that do well in any soil. Produces flowers 12 weeks from Spring sowing. Large full peony-like flowers. Seed heads great for dried arrangements or other crafts. Collected seeds can be used for topping homemade bread & muffins.


Instructions: Surface sow in early Spring.