Type:
Perennial
Seed #:
49
Common Name:
Babies Breath
Latin Name:
Gypsophila repens
Variety:
Rosea
Colour:
Pink
Temperature:
16C - 22C (61F - 72F) (Zone 4 & up)
Zone:
4 & up
Blooms:
July to August
Site:
Full Sun.
Height:
5cm - 7cm (2" - 3")
Spread:
30cm - 45cm (12" - 18")
Seeds per pack:
50
Price:
$4.00

Attracts
Butterflies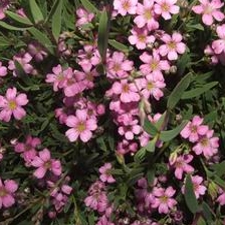 Notes: Gypsophila repens rosea is also known as Creeping Baby's Breath. Its natural creeping effect makes it a perfect choice for rock gardens and walls creating cascading clouds of pure pink blooms. Excellent ground cover and frost hardy.Cut back after flowering to encourage a second bloom. Often used by florists for foliage. Blooms bigger and better every year!


Instructions: Sow 2 mm deep. Germination 7 to 10 days.


Habitat: Gypsophila repens rosea is frost hardy and will tolerate moist soil, but does best in deep, well drained soil mixed with compost materials. Transplant only in dormant season.