Type:
Vegetable
Seed #:
490 ( Edit )
Common Name:
Pea - Purple Mist Pod
Latin Name:
Variety:
Purple Mist Shelling/Dried Pea
Colour:
purple/green
Temperature:
15C - 20C (59F - 68F) (Zone 2)
Blooms:
July to October
Site:
Full Sun
Height:
145cm - 170cm (57" - 67")
Spread:
6cm - 8cm (2" - 3")
Quantity:
30 Seeds
Price:
$4.00

Attracts
Butterflies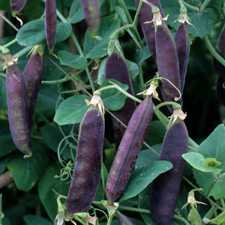 Notes: Purple Mist pod pea produces strong, prolific, climbing vines that thrive in well-drained and well-watered soil. This Dutch heirloom pea can be harvested as snow peas if picked young and flat, or the pods can be left to produce their unique deep purple pod with bright green seeds inside, and then picked as a shelling pea. These abundant producers once ripe can be shelled and dried for winter soups and stews. Tasty conversation piece when pods are served raw in salads and garnishes.


Instructions: Direct sow 1 to 2 cm deep when earth can be worked, or start indoors and transplant in early Spring. Germinates in 7 to 10 days.