Type:
Vegetable
Seed #:
493
Common Name:
Onion - Red Globe
Latin Name:
allium cepa 'Burgundy'
Colour:
Red
Temperature:
10C - 29C (50F - 84F) (Zone 2)
Blooms:
May to June
Site:
Full Sun
Height:
10cm - 12cm (4" - 5")
Spread:
20cm - 30cm (8" - 12")
Quantity:
75 Seeds
Price:
$2.99 (Get 3 for $8.49!)

Deer
Resistant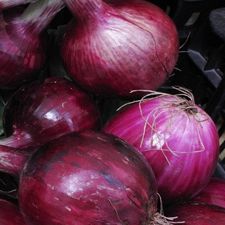 Notes: Beautiful round,red-skinned heritage variety with a medium strong flavour. Globe-shaped bulbs have white flesh with some pink shading. Grown for storage life and flavour. Great for soups stews or salads. Plant near tomatoes, herbs or even your roses to encourage growth and deter pests.


Instructions: Sow 3 to 6 mm deep in early Spring. 7 to 14 days to germinate.