Type:
Herb
Seed #:
497
Common Name:
Red Celery
Latin Name:
apium graveolens
Variety:
Heirloom
Colour:
Red
Temperature:
18C - 25C (64F - 77F) (Zone 2)
Blooms:
May to June
Site:
Full Sun
Height:
30cm - 40cm (12" - 16")
Spread:
20cm - 30cm (8" - 12")
Quantity:
100 Seeds
Price:
$3.99

Attracts
Butterflies
Deer
Resistant
Scented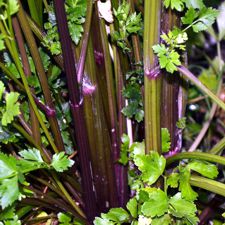 Notes: Delicious and colourful addition to the average vegetable garden or dinner plate, because of it striking color. Great in soups, salads and stir-fry or just on its own as a snack or garnish.


Instructions: Direct seed 2 mm deep. Red Celery is heavy on water and nutrients but worth the effort. Store-bought celery tastes nothing like that which you grow yourself. Use plenty of compost and mulch around the plants to retain moisture.


Habitat: Moist,well drained, nutrient rich soils. Really appreciates compost and mulch.


History: The Latin name Apium was derived from a prehistoric Indo-European word for water. Celery grows best with an abundance of water and has proven its preference for a moist location with its history of growing in salty marshes and wet soils.


Medicinal: Known for its use in pharmacology to effectively relieve gas pains. A 17th-century herbalist Nichols Culpeper proved that the leaves when eaten in the Spring helps to purify the blood.