Type:
Perennial
Seed #:
50
Common Name:
Lambs Ear
Latin Name:
Byzantine stachys
Variety:
herbaceous perennial
Colour:
Pink
Temperature:
13C - 18C (55F - 64F) (Zone 4)
Zone:
4
Blooms:
July to August
Site:
Full Sun or Part Shade
Height:
25cm - 30cm (10" - 12")
Spread:
25cm - 30cm (10" - 12")
Quantity:
60 Seeds
Price:
$3.99

Attracts
Butterflies
Deer
Resistant
Drought
Tolerant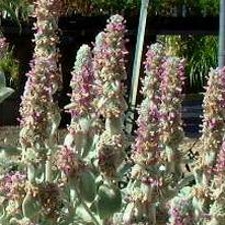 Notes: Low growing ornamental plant with super fuzzy leaves and flower spikes producing brilliant pink blossoms. Lambs Ear is deer resistant, drought tolerant. Another great choice to add contrast and depth to your space. So soft!


Instructions: Direct sow 2 mm deep. Germination is 10 to 20 days.