Type:
Annual
Seed #:
500
Common Name:
Red Hot Salvia
Latin Name:
S. farinacea
Variety:
Scarlet Sage
Colour:
Red
Temperature:
10C - 18C (50F - 64F) (Zone 2)
Blooms:
July- August
Site:
Full Sun/Part Shade
Height:
20cm - 30cm (8" - 12")
Spread:
16cm - 20cm (6" - 8")
Quantity:
30 Seeds
Price:
$3.33

Attracts
Butterflies
Great
Cutflower
Deer
Resistant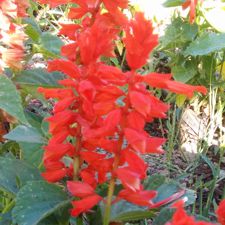 Notes: Make your beds and borders pop with colour and beneficial insect life! This plant commands attention in any garden project. Very reliable with long bloom periods of stunning red flowers and deep green foliage. Also great for deck planters and startlingly beautiful in bouquets. Attract butterflies, bees and hummingbirds like a magnet.


Instructions: NO COVER as these seeds needs light to germinate. If treating S. farinacea as an annual, sow indoors 8 weeks before the last frost. Press into soil and water using a misting spray bottle or water from the bottom which allows the seeds to be undisturbed. Transplant to well-drained garden space when the second true set of leaves appear.


Habitat: Well-drained soil with dry to average moisture levels.