Type:
Annual
Seed #:
503
Common Name:
Poppy - Pink Feather
Latin Name:
papaver laciniatum
Variety:
Pink Feather
Colour:
Pink Mix
Temperature:
13C - 25C (55F - 77F) (Zone 3 & up)
Blooms:
June to September
Site:
Full Sun
Height:
100cm - 150cm (39" - 59")
Spread:
35cm - 50cm (14" - 20")
Seeds per pack:
0
Price:
$0.00

Attracts
Butterflies
Deer
Resistant
Drought
Tolerant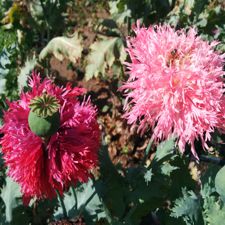 Notes: Produces large feathery flowers in a mix of pinks. Quick and easy to grow in any soil. Direct sow in Fall or early Spring. Plants dislike being transplanted but readily self-sow. Perfect as a center in large beds or in front of shrubs. Heads can be dried for flower arranging and it's also very easy to collect poppy seeds in general. Just wait until the heads have opened tiny holes at the top of the pod and shake the seeds into a container. These beauties will add a spark of colour to any planting.


Instructions: Surface sow in early Spring.