Type:
Perennial
Seed #:
51
Common Name:
Columbine Mix
Latin Name:
Aquilegia
Variety:
Superb Variety Mix
Colour:
Mixed Colors
Temperature:
18C - 25C (64F - 77F) (Zone 3)
Zone:
3
Blooms:
May to June
Site:
Shade or Part Shade
Height:
30cm - 50cm (12" - 20")
Spread:
10cm - 15cm (4" - 6")
Quantity:
60 Seeds
Price:
$3.99

Attracts
Butterflies
Great
Cutflower
Deer
Resistant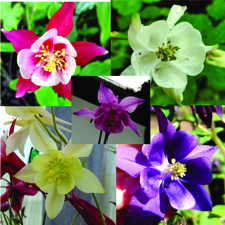 Notes: Our Columbine patch was extraordinary this year. Now yours will be too! Early Flowers make a bold statement in beds borders, rock gardens and early bouquets. Grows well in part to full shade. Great selection for naturalized or woodland gardens. Gorgeous!


Instructions: Prior to planting, place columbine seeds on a moist paper towel and insert them into a plastic bag that you can store in the refrigerator for three to six weeks. Check them regularly to prevent the seeds from drying out. Direct sow. Do not cover, as seeds will need light to germinate. Germination is 21 to 28 days.


Habitat: Columbine enjoys dappled sunlight and moist well-drained soil.