Type:
Herb
Seed #:
513 ( Edit )
Common Name:
Peppermint
Latin Name:
menta peperita
Colour:
green
Temperature:
15C - 20C (59F - 68F) (Zone 2)
Blooms:
June to September
Site:
Full Sun
Height:
30cm - 70cm (12" - 28")
Spread:
25cm - 30cm (10" - 12")
Quantity:
100 Seeds
Price:
$3.33

Attracts
Butterflies
Great
Cutflower
Deer
Resistant
Drought
Tolerant
Scented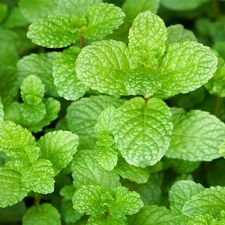 Notes: Peppermint is one of the most widely used herbs in the world. It is easy to grow for teas and used to add flavour to a wide variety of desserts, beverages and can even be used as a deodorizer.


Instructions: Sow 2 mm deep. This can be done indoors to transplant after frost has lifted or direct sow when the recommended temperature below allows. Germination is 7 to 14 days.


History: Peppermint herbs use dates back to less than 1550 BC.


Medicinal: It has antiseptic and anesthetic properties and is great for relieving colds, asthma and congestion symptoms. Commonly used as a digestive aid.