Type:
Annual
Seed #:
514
Common Name:
Larkspur
Latin Name:
adonis aestivalis
Variety:
Pheasants Eye
Colour:
Deep red
Temperature:
15C - 24C (59F - 75F) (Zone 2 & up)
Blooms:
May to July
Site:
Full Sun
Height:
25cm - 50cm (10" - 20")
Spread:
30cm - 50cm (12" - 20")
Quantity:
100 Seeds
Price:
$3.99

Attracts
Butterflies
Great
Cutflower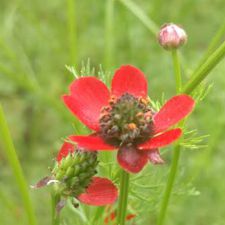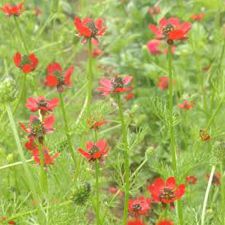 Notes: Native to Asia an Europe these tough midsize plants are considered to be rare and endangered. The fine feathery foliage produces masses of brilliant red flowers with black centers and has very unusual seed heads Slow to germinate, but quick to show off its beauty and splendour when planted in masses in beds and borders and large containers. They attract and retain many pollinating insects. Plants are toxic to grazing animals but make a perfectly safe addition to the avid flower gardeners retreat.


Instructions: Direct sow 2 mm deep. Germination 7 to 25 days. These can be transplanted easily if starting them indoors is an option. Sow 3 weeks before the last frost indoors, or sow directly outdoors when temperature stated below is present.


Habitat: Well-drained, moist soil. Healthier blooms appear when mulch is applied to keep the roots cool.