Type:
Perennial
Seed #:
52
Common Name:
Columbine Purple
Latin Name:
Aquilegia
Variety:
Black Barlow
Colour:
Deep Purple
Temperature:
18C - 25C (64F - 77F) (Zone & up)
Zone:
& up
Blooms:
May to June
Site:
Shade or Part Shade
Height:
30cm - 50cm (12" - 20")
Spread:
10cm - 15cm (4" - 6")
Seeds per pack:
0
Price:
$4.00

Attracts
Butterflies
Great
Cutflower
Deer
Resistant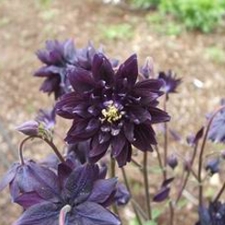 Notes: Superb deep purple pleated flowers that make a bold statement in beds borders, rock gardens and early bouquets. Grows well in part to full shade.


Instructions: Sow outside. No Cover. Germination is 21 to 28 days.