Type:
Herb
Seed #:
522
Common Name:
Spilanthes
Latin Name:
Acmella oleracea
Variety:
Electric Daisy Buzz Buttons
Colour:
Yellow
Temperature:
20C - 24C (68F - 75F) (Zone 10)
Blooms:
June-Frost
Site:
Full Sun
Height:
20cm - 35cm (8" - 14")
Spread:
30cm - 35cm (12" - 14")
Quantity:
65 Seeds
Price:
$3.33

Great
Cutflower
Deer
Resistant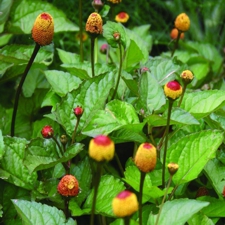 Notes: Spilanthes is a tropical perennial in it's native Brazil and Africa but is grown as an annual ornamental flower and herb in cooler areas. It grows in a compact mound and produces lots of yellow button flowers with deep red-brown eyes. Eating the leaves and flowers especially produces a short-lived tingly and then numbing effect. Also known as Buzz Buttons, Electric Buttons, Szechuan Buttons and Para Cress.


Instructions: Do not cover seeds need light to germinate. Germ. 7-14 Days, Prefers rich moist soil and appreciates shade during the hottest parts of the day.


History: Also known as Toothache Plant


Medicinal: Traditionally used to treat tooth-ache, earache, gum disease, Lyme disease and Malaria as well as a stimulant and tonic. The active ingredient in Spilanthes is Spilanthol. Purported to be antiviral and an antibiotic.