Type:
Perennial
Seed #:
524
Common Name:
Butterfly Milkweed
Latin Name:
Asclepia tuberosa
Colour:
Orange
Temperature:
10C - 25C (50F - 77F) (Zone 2 & up)
Zone:
2 & up
Blooms:
June - August
Site:
Height:
10cm - 100cm (4" - 39")
Spread:
10cm - 100cm (4" - 39")
Seeds per pack:
0
Price:
$0.00

Attracts
Butterflies
Great
Cutflower
Deer
Resistant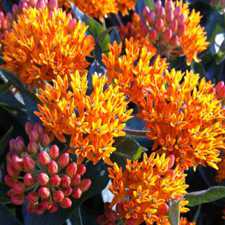 Notes: Provides habitat for and attracts Butterfly's, Hummingbirds, Bees and other beneficial insects. Grows well in well-drained sandy soils producing brilliant orange flower bunches from June through August. Deer resistant and low maintenance plants.


Instructions: It is important that butterfly weed seeds experience several months of cold, moist conditions in order to germinate properly. You may start butterfly weed seed indoors or out. For outdoor sowing, begin with a prepared bed and a sowing in late fall (mid-November). Germination in 7-35 Days Indoor or out scatter the seeds evenly over the surface and press them lightly into the soil. Cover them lightly with a 2mm of germination mixture and moisten the surface thoroughly. The best way to propagate Butterfly Weed is to let it resow itself naturally. Once planted it does not like to be disturbed so transplanting is not always the most effective.


Medicinal: All parts of this plant are poisonous if ingested, which is what provides Butterflies with their advantage through the immunity they have developed.