Type:
Annual
Seed #:
539
Common Name:
Red Cardinal Vine
Latin Name:
Ipomoea sloteri
Variety:
Cardinal Climber
Colour:
red
Temperature:
15C - 20C (59F - 68F) (Zone 2 & up)
Blooms:
100
Site:
Zone 3
Height:
10cm - 100cm (4" - 39")
Spread:
10cm - 100cm (4" - 39")
Seeds per pack:
0
Price:
$0.00

Attracts
Butterflies
Great
Cutflower
Deer
Resistant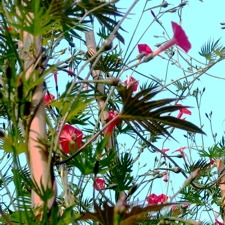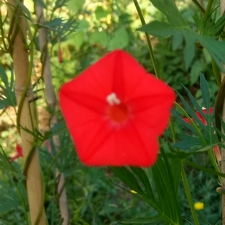 Notes: This distinctly Cardinal Red beauty has a delightful wild side. Once established Red Cardinal vine is vigorous and lengthy with its growth and bloom period. It loves to be trellised and makes a great centrepiece or even a backdrop in your garden space. It will climb whatever you choose. The taller the structure, the more intense the display. Hummingbirds are especially fond of it and will frequent it regularly.


Instructions: Sow these seeds about 1/4 inch deep. Keep evenly moist but not consistently wet for best germination results. Cardinal Vine doesn't like prolonged periods of dryness so mulching their base provides an environment it thrives in. Cardinal vine does not like to be transplanted and does best when directly sown, after danger of frost to plant seeds outdoors. Scarification or any easier method is to soak them overnight. Seeds should germinate within 15 to 20 days.