Type:
Annual
Seed #:
54
Common Name:
African Daisy
Latin Name:
Dimorphotheca sinuata
Variety:
Heirloom Variety
Colour:
Yellow & Orange
Temperature:
16C - 20C (61F - 68F) (Zone 3)
Blooms:
June to September
Site:
Shade or Part Shade
Height:
20cm - 25cm (8" - 10")
Spread:
30cm - 35cm (12" - 14")
Seeds per pack:
25
Price:
$4.00

Attracts
Butterflies
Great
Cutflower
Drought
Tolerant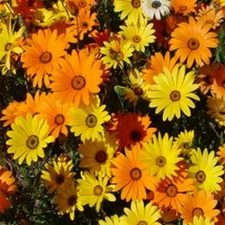 Notes: Native African plant that thrives in full sun, dry soil and cool conditions. Trailing habits make a great spreading plant and allows use in baskets and low borders. Works well as a cut flower!


Instructions: Sow 1 to 2 mm deep. Germination is 10 to 20 days.