Type:
Annual
Seed #:
540
Common Name:
Morning Glory
Latin Name:
impomea
Variety:
Carnival De Venezia
Colour:
blue and white
Temperature:
10C - 25C (50F - 77F) (Zone 2 & up)
Blooms:
90 days
Site:
Full Sun
Height:
300cm - 400cm (118" - 157")
Spread:
30cm - 35cm (12" - 14")
Seeds per pack:
0
Price:
$0.00

Attracts
Butterflies
Deer
Resistant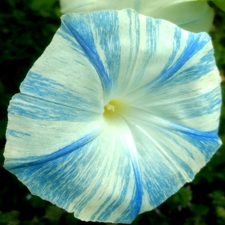 Notes: A show-stopping blue on white flowers in an interesting striped and spattered form. Easy to grow and difficult to find. These are non-invasive like its cousin bindweed, which is often called Morning Glory in error. These trailing vines will soon become a favourite. Carnival of Venice makes a bold but elegant statement on fences & trellises in the garden. Appreciates cool roots so mulch is recommended. Morning Glory is often mistaken for the dreaded bindweed. While they are similar, this variety while a vigorous grower does not carry the same hyper invasive qualities as bindweed.


Instructions: Soak seeds for best results. Direct sow 1 cm deep. 7 to 21 days germination. Provide a trellis or support for it to climb on for a spectacular show.