Type:
Perennial
Seed #:
542 ( Edit )
Common Name:
Bells of Ireland
Latin Name:
moluccella laevis
Colour:
Green and white
Temperature:
10C - 21C (50F - 70F) (Zone 2)
Zone:
2
Blooms:
July to October
Site:
Full Sun
Height:
60cm - 65cm (24" - 26")
Spread:
25cm - 30cm (10" - 12")
Quantity:
30 Seeds
Price:
$3.33

Attracts
Butterflies
Great
Cutflower
Deer
Resistant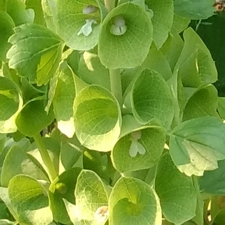 Notes: Long prized for its unique green spires of bell-shaped flowers on a central stock reaching two feet high. Excellent for cutting and dried arrangements. Highly resistant to deer. Easy care and drought tolerant, especially when mulched.


Instructions: Direct sow with no cover in early spring, as soon as the soil can be worked. Or, start seeds indoors in late autumn and set out the seedlings while the soil is still cool. Germinates in 10 to 12 days.


Habitat: Well-drained soil and full sun location are best. Mulch for water conservation and nutrient replacement. Appreciates wind protection or being staked in windy locations.