Type:
Perennial
Seed #:
543 ( Edit )
Common Name:
Delphinium - Pink
Latin Name:
delphinium
Variety:
Pink Blush
Colour:
pastel pink
Temperature:
15C - 25C (59F - 77F) (Zone 2)
Zone:
2
Blooms:
June to September
Site:
Zone 3
Height:
170cm - 175cm (67" - 69")
Spread:
30cm - 70cm (12" - 28")
Quantity:
35 Seeds
Price:
$3.33

Attracts
Butterflies
Great
Cutflower
Deer
Resistant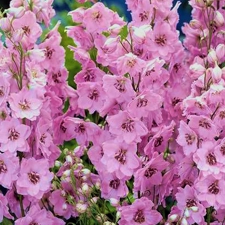 Notes: This soft pink beauty is a wonderful early cut-flower. Deer resistant, drought tolerant and an early bloomer that produces a bounty of truly stunning bi-colour and tri-colour flowers. (Especially in second and subsequent years.) Provide even moisture and bright light for best results. A hummingbird favourite.


Instructions: Sow 3 mm deep in early Spring indoors or you can direct sow when all chance of frost has passed. Once established mulch to insulate, provide nutrients and to mark the area when the plant dies back into the ground. Easy to grow. Deadhead only after the flowers and parts of the plant have died back. Doing this too early robs the perennial of its chance to reabsorb the nutrients from its leaves which it stores back into the root system providing abundant energy for next seasons splendour. Germinates 7 to 21 days.