Type:
Perennial
Seed #:
544
Common Name:
Bear Breeches
Latin Name:
Acanthus mollis
Variety:
Summer Beauty
Colour:
bi-colour
Temperature:
10C - 25C (50F - 77F) (Zone 3 & up)
Zone:
3 & up
Blooms:
June - August
Site:
Zone 3 and up
Height:
100cm - 130cm (39" - 51")
Spread:
90cm - 100cm (35" - 39")
Quantity:
6 Seeds
Price:
$3.99

Attracts
Butterflies
Great
Cutflower
Deer
Resistant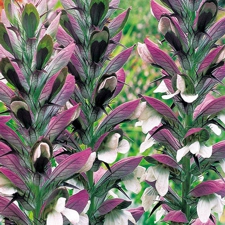 Notes: A hot seller for those shady areas. Acanthus has large, glossy green leaves that are highly deer resistant. Acanthus then unleashes tall, showy bi-coloured spires of white and deep purple flowers.


Instructions: After a month in your fridge, presoak 1-2 days for faster and easier germination. Worth the effort if you are looking to fill that tough to fill, part shade area of your garden, with a tall striking plant. Direct sow after all chance of frost has passed. Space about 6 inches apart. Germination is 21 to 49 days at 15 to 20 degrees.


Habitat: Fertile, well-drained soil. Known for its ability to flower in part shade, but may bloom less if there aren't at least 3 hours of sun. Benefits from the morning sun so is often used in those tough to plant areas. Do not cut back for the winter, but cut off any damaged leaves in the spring if needed. Divide in spring every 4-5 years. Tolerates most soils, but prefers moist, fertile, well-drained soils.


History: Genus name comes from the Greek word akantha meaning spine in reference to the toothed edges on leaves in some species.