Type:
Annual
Seed #:
546
Common Name:
Safflower Mix
Latin Name:
carthamus tinctorius
Variety:
heirloom
Colour:
yellow and orange
Temperature:
10C - 35C (50F - 95F) (Zone 2)
Blooms:
July to September
Site:
Zone 3
Height:
60cm - 90cm (24" - 35")
Spread:
30cm - 70cm (12" - 28")
Quantity:
10 Seeds
Price:
$3.99

Attracts
Butterflies
Great
Cutflower
Deer
Resistant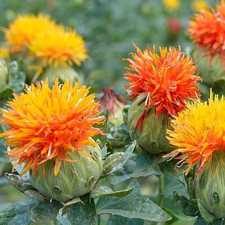 Notes: An ancient heirloom plant that is grown for its oil, for a saffron substitute and for its brilliantly coloured dye. You will fall in love with this extremely easy to grow these plants for their abundant, feathery, thistle-like, bright yellow and orange flowers. These deer resistant plants are excellent cut flowers.


Instructions: Sow the safflower seeds 2 to 3 cm deep in rows 15 to 20 cm apart when the soil temperature is at least 10 degrees, in April or May. Expect the seedlings to emerge from the soil in one to three weeks. When starting Safflower seeds indoors, sow about 8 weeks prior to transplanting outdoors after the last frost of the season. Safflower enjoys full sun and well-drained soil.


Habitat: Safflower prefers full sun and drier soils once established. Deer resistant.


History: Native to western Asia.