Type:
Herb
Seed #:
549
Common Name:
Holy Basil
Latin Name:
ocimum tenuiflorum
Variety:
Medicinal Basil
Colour:
green
Temperature:
10C - 25C (50F - 77F) (Zone 2 & up)
Blooms:
90 days
Site:
Zone 3
Height:
10cm - 100cm (4" - 39")
Spread:
10cm - 100cm (4" - 39")
Quantity:
100 Seeds
Price:
$3.99

Attracts
Butterflies
Deer
Resistant
Scented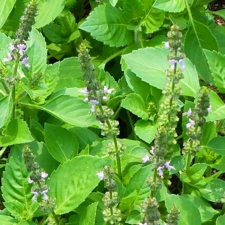 Notes: Basil prefers a rich moist soil with plenty of Sun. It is advised to start your basil in a hotbed in April and the relocate it to a warm border in May planting about 10 inches to 1 foot apart. Basil dies down every year in Canada so it is considered an annual that must be sown every year.


Instructions: Start seeds indoors. Sow 1 cm deep and water seedlings far from stems(bottom watering highly recommended)especially when young. Keep soil temperatures warm. Lightly prune to encourage bushing for optimum future growth. There was a small amount of Red Rubin basil in this mix so be sure to note that in germination. You can divide them as they emerge or you can leave it for the contrast in your basil plantings.


History: History: Native to India and Persia but is now common throughout the world in herb gardens. It was once used as a sacred herb in ancient times. Its purpose was to provide protection from evil in the afterlife and was laid upon the chests of their dead.


Medicinal: Medicinal: Basil has a history of being used for mild nervous disorders and in the form of snuff to alleviate nervous headaches. Sweet basil in particular, when leaves are boiled are known for arresting vomiting and alleviating nausea. Alongside its healing quality, basil is great for flavouring soups and stews.