Type:
Annual
Seed #:
550
Common Name:
Morning Glory
Latin Name:
impomea
Variety:
Venice Pink
Colour:
Pink
Temperature:
15C - 20C (59F - 68F) (Zone 2 & up)
Blooms:
90 days
Site:
Zone 3
Height:
300cm - 400cm (118" - 157")
Spread:
30cm - 35cm (12" - 14")
Seeds per pack:
0
Price:
$0.00

Attracts
Butterflies
Deer
Resistant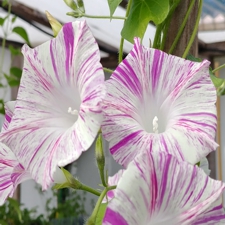 Notes: Venice Pink Morning Glory put on quite the show in blooms and duration.These vining plants can grow to 15 ft and are not picky about the soil. An annual plant that makes a statement. May self-sow but is not as invasive as the white-flowered bindweed that is often mistaken for this variety. Excellent climber and hummingbirds and bees will visit often.


Instructions: Soak seeds for best results. Direct sow 1 cm deep. 7 to 21 days germination. Provide a trellis or support for it to climb on for a spectacular show.