Type:
Annual
Seed #:
551
Common Name:
Coreopsis
Latin Name:
coreopsis x hybrida
Variety:
Ticseed
Colour:
red and yellow
Temperature:
15C - 20C (59F - 68F) (Zone 2 & up)
Blooms:
June - September
Site:
Zone 2
Height:
35cm - 40cm (14" - 16")
Spread:
30cm - 50cm (12" - 20")
Seeds per pack:
0
Price:
$0.00

Attracts
Butterflies
Great
Cutflower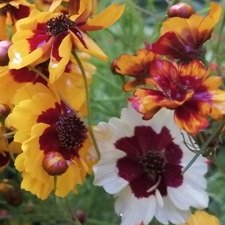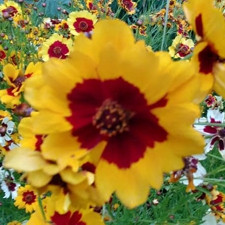 Notes: Coreopsis ticseed was quite the show off this harvest. We recommend planting in a full sun location for best results.Butterflies simply adore this as do the hummmingbirds. Delicate addition to cutflower arrangements. Harvest when buds are just opening for longer lasting vase time.


Instructions: Sow 2 mm deep indoors or sow directly outdoors after the risk of frost has passed in your region. Transplant and sow your coreopsis in clumps/groups for a more satisfying display. Germinates 14 to 21 days.