Type:
Annual
Seed #:
553
Common Name:
Poppy - Black Swan Lace
Latin Name:
Variety:
Black Swan Lace
Colour:
purple
Temperature:
13C - 25C (55F - 77F) (Zone 2 & up)
Blooms:
May to June
Site:
Zone 3
Height:
100cm - 150cm (39" - 59")
Spread:
35cm - 50cm (14" - 20")
Seeds per pack:
0
Price:
$0.00

Attracts
Butterflies
Great
Cutflower
Deer
Resistant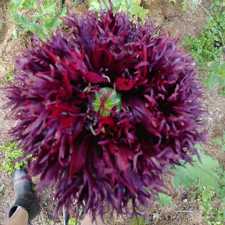 Notes: A picture is worth a thousand words. These eyecatching show stoppers will fill any early Spring garden with color and interest.Equisite in day bouquets.


Instructions: Surface sow in early Spring. 1 mm deep. Germination 10 - 15 days. Easy to grow and care for. If you intend to collect the seed for eating, wait until seed pods have completely dried on the plant. You will see the pod has formed little openings, like a salt shaker signalling the seed, is ripe and ready for harvest.