Type:
Vegetable
Seed #:
572
Common Name:
Peppers Yellow
Latin Name:
Variety:
Sunbright Yellow
Colour:
yellow
Temperature:
18C - 20C (64F - 68F) (Zone 2)
Blooms:
75 days
Site:
Full Sun
Height:
60cm - 85cm (24" - 33")
Spread:
80cm - 100cm (31" - 39")
Quantity:
25 Seeds
Price:
$3.99

Attracts
Butterflies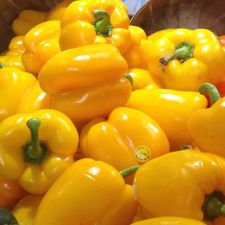 Notes: Produces large 5 by 7-inch, sweet and crisp delicious bell peppers, that start green and ripen to a brilliant canary yellow. Great for fresh picking, jams, relishes and even pizza.


Instructions: Sow Sunbright Yellow Pepper seeds indoors about six weeks before the last expected frost. For most locations, this will be between January and March. Replant your seedlings in larger pots after they have at least 2 sets of true leaves or are at least 2 inches tall. In two more weeks move outdoors to a bright, well-drained but moist location. Prepare your peppers for the outdoors by letting a small fan blow on them or taking them outdoors in a protected location for a few hours a day.