Type:
Vegetable
Seed #:
574
Common Name:
Green Onions -Tokoyo
Latin Name:
allium cepa
Variety:
Tokyo Long Green
Colour:
Green
Temperature:
10C - 29C (50F - 84F) (Zone 2)
Blooms:
65 days
Site:
Full Sun
Height:
20cm - 25cm (8" - 10")
Spread:
10cm - 12cm (4" - 5")
Quantity:
125 Seeds
Price:
$3.99

Deer
Resistant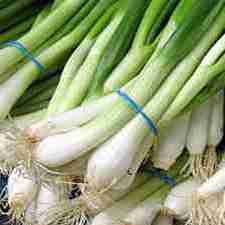 Notes: This amazing Japanese heirloom is grown as a bunching or long green onion. Prized for its uniform growth, mild flavour and disease resistance. Excellent for fresh eating in salads, soups, stews, or on potatoes or eggs and garnishes.


Instructions: Sow 3 to 6 mm deep in early Spring. 3 to 13 days to germinate.


Habitat: It is advised not to plant onions near peas, beans, parsley and leeks. However, carrots, beetroot, cabbage lettuce and tomato really appreciate their company in the garden.