Type:
Perennial
Seed #:
59
Common Name:
Calendula
Latin Name:
Calendula officinalis
Variety:
Pot Marigold
Colour:
Orange
Temperature:
18C - 23C (64F - 73F) (Zone 2)
Zone:
2
Blooms:
June to September
Site:
Full Sun or Part Shade
Height:
40cm - 45cm (16" - 18")
Spread:
30cm - 35cm (12" - 14")
Quantity:
50 Seeds
Price:
$3.99

Attracts
Butterflies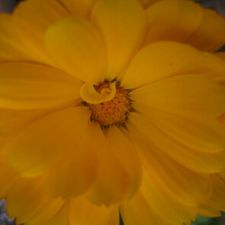 Notes: Very easy to grow in even poor soil. Extremely versatile. Also considered a herb. The leaves and petals can be used in salad. This plant will also repel insects when planted on the borders of your garden. Producing brilliant orange flowers that add colour to your garden or plant as a border in your garden to help repel harmful insects and attract early pollinators. Self sows, making it a great soil stabilizer on sloped or disturbed areas.


Instructions: Sow 2 cm deep in early Spring. Easy to grow!


Habitat: Extremely versatile and easy to grow in any soil with good drainage. Prefers a slightly shaded area in hotter months but will flourish just about anywhere.


History: The word Calendula derives from the Latin word calens. Calens means the first day of the month. The Romans also gave it the name Marygold as the bloom period for Calendula coincided with the festival that celebrated the Virgin Mary. There is also a Greek legend about four wood Nymphs that fell in love with Apollo the Sun God. The Nymphs became jealous of each other and neglected their duties to Apollo's sister Goddess Diana. This upset her so she turned them into four dull white flowers. This in turn upset Apollo who used his most golden rays to colour the flowers the brilliant golden colour we see today


Medicinal: Calendula has a history of having anti-inflammatory properties. Great for wound healing, minor burns including sunburn, eczema, peptic ulcers and sore throat.