Type:
Annual
Seed #:
63
Common Name:
Cerinthe
Latin Name:
Cerinthe major purpurascens
Variety:
Major Blue
Colour:
Blue
Temperature:
15C - 55C (59F - 131F) (Zone 2 & up)
Blooms:
July to September
Site:
Full Sun or Part Shade
Height:
50cm - 75cm (20" - 30")
Spread:
25cm - 30cm (10" - 12")
Seeds per pack:
25
Price:
$4.00

Attracts
Butterflies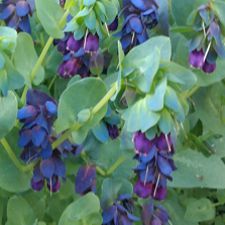 Notes: This highly sought after and sometimes hard to find beauty, self sows and makes a great cut-flower for dinner bouquets as a conversation piece. Cerinthe attracts bees and other nectar feeders. Sow several in one area to accomplish the wow factor. Or, it is also fantastic for borders, boasting its rich sky blue bracts contrasting with deep purple blue flowers. This outstanding annual is hardy up to - 5. To use Cerinthe Major as a cut flower, the ends of the stem need to be either dipped in hot water or flamed.Adds a striking feature to basic bouquets. Not common in the average gardens.


Instructions: Sow 2- 3 cm deep in groups or as a border. Germination 7 to 14 days. Start the Cerinthe seeds indoors 6 - 8 weeks before the last expected frost or out doors in early Spring. Keep soil moist, but not saturated. Hardy to minus 5 degrees.