Type:
Annual
Seed #:
66
Common Name:
Ring of Fire Sunflower
Latin Name:
Helianthus annum
Variety:
Ring of Fire
Colour:
Red & Orange
Temperature:
18C - 28C (64F - 82F) (Zone 2 & up)
Blooms:
July to September
Site:
Full Sun
Height:
100cm - 200cm (39" - 79")
Spread:
35cm - 50cm (14" - 20")
Quantity:
25 Seeds
Price:
$3.99

Attracts
Butterflies
Great
Cutflower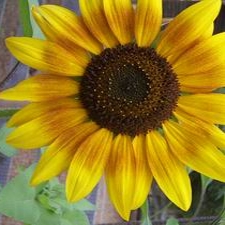 Notes: Striking tri-colored flowers with golden yellow tips and red base that surrounding a dark center. Easy to grow and if left in the garden long enough will act as a natural bird feeders. Great for cut flowers and focal points in your garden beds.


Instructions: Sow 3 cm deep. Germination is 8 to 15 days.