Type:
Perennial
Seed #:
7
Common Name:
Coreopsis
Latin Name:
Coreopsis lanceolata
Variety:
Summer Sun
Colour:
Yellow
Temperature:
15C - 18C (59F - 64F) (Zone 4 & up)
Zone:
4 & up
Blooms:
June to September
Site:
Full Sun or Part Shade
Height:
40cm - 45cm (16" - 18")
Spread:
30cm - 50cm (12" - 20")
Quantity:
50 Seeds
Price:
$3.99

Attracts
Butterflies
Deer
Resistant
Drought
Tolerant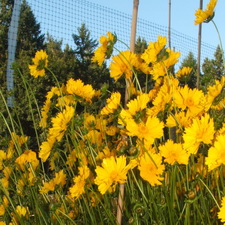 Notes: One of the best and oldest varieties of cultivated wildflowers. These plants prefer the well-drained soil poor so many of us are blessed with. Coreopsis is a great cut flower that is deer resistant, drought tolerant, butterflies adore it. Coreopsis has also proven to be a ladybug magnet to our gardens. Ladybugs are very beneficial to any garden as they are known to eat aphids.


Instructions: Sow 2 mm deep indoors or sow directly outdoors after the risk of frost has passed in your region. Transplant and sow your coreopsis in clumps/groups for a more satisfying display. Germinates 14 to 21 days.


Habitat: Coreopsis prefers full sun and even moisture. If you mulch the base with compost, it will double its blooms.