Type:
Annual
Seed #:
73
Common Name:
Datura
Latin Name:
Datura inoxia
Variety:
Fleur De Lilac
Colour:
Purple
Temperature:
25C - 28C (77F - 82F) (Zone 3 & up)
Blooms:
June to August
Site:
Full Sun or Part Shade
Height:
30cm - 40cm (12" - 16")
Spread:
30cm - 50cm (12" - 20")
Seeds per pack:
50
Price:
$4.00

Attracts
Butterflies
Deer
Resistant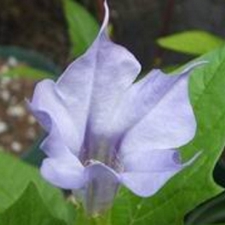 Notes: Deer resistant, vividly coloured, trumpet-shaped flowers are followed by spiky ornamental seedpods, which are long-lasting and suited for cut arrangements. Do not eat the seeds or any other part of this plant. May be poisonous. Not attractive to animals. Self-sows making it a great choice for easy care gardens. The unique seed heads of Datura are often saved and used in crafts.


Instructions: Sow 2 mm deep indoors or out in early Spring. Germination 30 days. Very easy to grow.