Type:
Annual
Seed #:
78
Common Name:
Godetia
Latin Name:
Clarkia amoena
Variety:
Satin Star Mix
Colour:
Pink & White
Temperature:
16C - 24C (61F - 75F) (Zone 2)
Blooms:
May to September
Site:
Full Sun or Part Shade
Height:
25cm - 30cm (10" - 12")
Spread:
25cm - 30cm (10" - 12")
Quantity:
100 Seeds
Price:
$3.99

Attracts
Butterflies
Great
Cutflower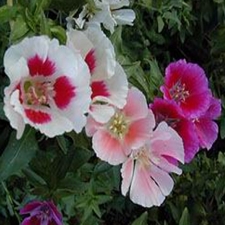 Notes: Godetia produces mounds of cup-shaped flowers. An early flower that tolerates cooler temperatures of 10 to 15. A second flowering may be attained in fall by summer pruning. These awesome bicolored flowers are a shimmery delight. Great cut flowers, containers, beds and borders.Does well in moist areas and prefers partial shade for best results. Self-sows but does not get weedy. Attract bees and butterflies.


Instructions: Sow 2 mm deep. Germination 10 to 15 days.


History: Native to the Pacific Coast of North America from BC to the San Francisco Bay area.