Type:
Annual
Seed #:
79
Common Name:
Larkspur
Latin Name:
Delphinium
Variety:
Rocket Mix
Colour:
Blue, White & Pink
Temperature:
15C - 24C (59F - 75F) (Zone 2 & up)
Blooms:
June to August
Site:
Full Sun or Part Shade
Height:
100cm - 150cm (39" - 59")
Spread:
30cm - 50cm (12" - 20")
Seeds per pack:
0
Price:
$0.00

Attracts
Butterflies
Great
Cutflower
Scented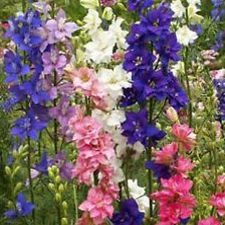 Notes: Very easy to grow these prolific plants that produce a gorgeous mixture of coloured single and double blooms, that take on a fluorescent effect in low light conditions.Does well in rock gardens, beds and moisture retentive soil.Fantastic cut or dried flower source.


Instructions: Sow 2 mm deep. Germination 7 to 25 days.


Habitat: Well drained moist soil in full sun.