Type:
Annual
Seed #:
82
Common Name:
Love in a Mist
Latin Name:
Nigella damascena
Variety:
Persian Jewel
Colour:
Blue,Pink & White
Temperature:
18C - 22C (64F - 72F) (Zone 2)
Blooms:
June to September
Site:
Full Sun or Part Shade
Height:
30cm - 60cm (12" - 24")
Spread:
20cm - 30cm (8" - 12")
Quantity:
75 Seeds
Price:
$3.99

Attracts
Butterflies
Great
Cutflower
Deer
Resistant
Drought
Tolerant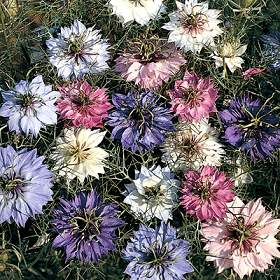 Notes: Direct sow this attractive, easy to grow the plant in a gorgeous airy mass. Produces pale blue, white or lilac blooms on delicate green foliage. They are a great cut flower filler and seed pods from these plants are used in dried flower arrangements. If some flowers are left to seed, they will self-sow making them a great wildflower. Easy to maintain.


Instructions: Sow 2 mm deep. Can be started indoors and transplanted when all chance of frost has passed. Germinates 10 to 15 days.