Type:
Annual
Seed #:
84
Common Name:
Cosmo Mix
Latin Name:
Cosmos bipinnatus
Variety:
Seashell Mix
Colour:
Red, Pink, White
Temperature:
20C - 25C (68F - 77F) (Zone 2)
Blooms:
June to September
Site:
Full Sun or Part Shade
Height:
60cm - 120cm (24" - 47")
Spread:
30cm - 45cm (12" - 18")
Quantity:
50 Seeds
Price:
$3.99

Attracts
Butterflies
Great
Cutflower
Drought
Tolerant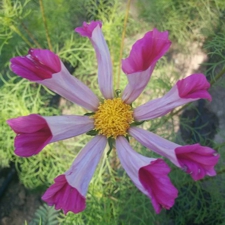 Notes: With this fabulous flower, it is easy to grow a mix of pink and white conversation pieces. Sporting its delicate tube-shaped petals and soft green,fern-like foliage creates an excellent backdrop or focal point for any garden. Prefers poor soil conditions and shelter from strong winds. Cosmos are great for cut flowers for their unique flowers and airy foliage.


Instructions: Sow outdoors and lightly cover. Germination 5 to 10 days. Cosmos can be started indoors but need very bright light to encourage stronger stems.