Type:
Annual
Seed #:
87
Common Name:
Marigold
Latin Name:
Tagetes patula
Variety:
African Marigold
Colour:
Yellow
Temperature:
20C - 25C (68F - 77F) (Zone 2)
Blooms:
May to September
Site:
Full Sun or Part Shade
Height:
25cm - 30cm (10" - 12")
Spread:
20cm - 25cm (8" - 10")
Seeds per pack:
0
Price:
$0.00

Attracts
Butterflies
Great
Cutflower
Deer
Resistant
Drought
Tolerant
Scented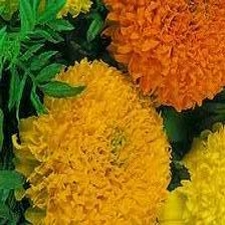 Notes: African Marigold is deer resistant, drought tolerant and a great cut flower. Its easy care and easy to grow attributes are perfect for encouraging young gardeners. In 45 days it produces large, full-bodied flowers that help disguise other plants odours making it a fantastic companion plant.


Instructions: Sow 2 mm deep. Germination 5 to 10 days. Easily started indoors with bright light. Transplant to the outdoor location after all chance of frost has passed.