Type:
Annual
Seed #:
89
Common Name:
Mignonette
Latin Name:
Reseda odorata
Variety:
Bee Hive
Colour:
White
Temperature:
20C - 25C (68F - 77F) (Zone 2)
Blooms:
June to September
Site:
Full Sun
Height:
30cm - 40cm (12" - 16")
Spread:
25cm - 30cm (10" - 12")
Quantity:
100 Seeds
Price:
$3.99

Attracts
Butterflies
Great
Cutflower
Drought
Tolerant
Scented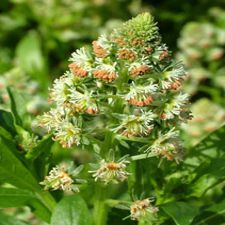 Notes: Mignonette is unique in so many ways. These plants smell incredible and create interest in the gardens with their unique form. And although they may not be the most colourful flower it compensates for that fact by it's intensely sweet, distance travelling scent. Few plants can come close to the beautifully unique perfume they produce. They will attract a plethora of beneficial honeybees that will sport glorious orange balls of pollen from the flowers which grow in a helix pattern. Honey bees in your garden is ALWAYS a good thing. Makes a great addition to any moon garden by adding white glow and intense scent on an evening stroll. Excellent cut flower, fresh or dried and even retains its fragrance.


Instructions: Sow 1 cm deep. Light cover. Germination 21 days.


Habitat: Plants like richer soil and regular water. Prefers milder temperatures so afternoon shade and mulch will increase your yield.