Type:
Annual
Seed #:
91
Common Name:
Nasturtium
Latin Name:
Tropaeolum majus L.
Variety:
Jeweled Wonder
Colour:
Yellow & Orange
Temperature:
18C - 22C (64F - 72F) (Zone 2)
Blooms:
June to September
Site:
Full Sun
Height:
20cm - 30cm (8" - 12")
Spread:
10cm - 15cm (4" - 6")
Seeds per pack:
50
Price:
$0.00

Attracts
Butterflies
Drought
Tolerant
Scented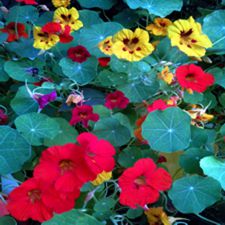 Notes: Nasturtium is extensively used in organic pest control. They are beneficial in attracting aphids away from other prize plants as well as attracting beneficial hoverflies that eat them. Easily grown in any soil and blooms for long periods. Nasturtiums require little water and no fertilizer, as enriched soil tends to produce more foliage than flowers. Use the brilliant colours of the flower petals and spice of the leaves as a garnish or to add the finishing touch to your garden fresh salads. Sweetly scented edible flowers and spicily scented foliage attracts hummingbirds.


Instructions: Sow 3 to 5 mm. soil. Germination is 7 to 14 days.