Type:
Perennial
Seed #:
92
Common Name:
Nicotiana - Pure White
Latin Name:
Nicotiana sylvestris
Variety:
Flowering Tobacco
Colour:
White
Temperature:
18C - 28C (64F - 82F) (Zone 2)
Zone:
2
Blooms:
June to September
Site:
Full Sun or Part Shade
Height:
100cm - 150cm (39" - 59")
Spread:
50cm - 60cm (20" - 24")
Quantity:
100 Seeds
Price:
$3.99

Attracts
Butterflies
Great
Cutflower
Deer
Resistant
Drought
Tolerant
Scented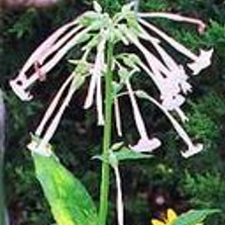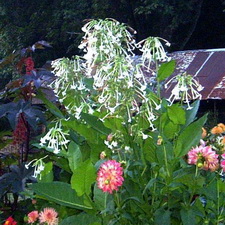 Notes: Popular for using massed in beds this tall plant produces large drooping white tubular scented flowers that attract hummingbirds and other beneficial insects. Easy to grow. Great for container plantings and cut flowers.


Instructions: Do not cover. Germination 10 to 20 days.


Habitat: Nicotiana thrives in full sun as you can see from the second image. In the background, complimenting the Nicotiana is Castor Bean. Striking pair for tropical look and feel.