Type:
Annual
Seed #:
93
Common Name:
Nicotiana/Scented
Latin Name:
Nicotiana sylvestris
Variety:
Heirloom Mix
Colour:
Mixed
Temperature:
18C - 28C (64F - 82F) (Zone 2)
Blooms:
July to October
Site:
Full Sun
Height:
90cm - 150cm (35" - 59")
Spread:
30cm - 35cm (12" - 14")
Quantity:
300 Seeds
Price:
$3.99

Attracts
Butterflies
Great
Cutflower
Deer
Resistant
Scented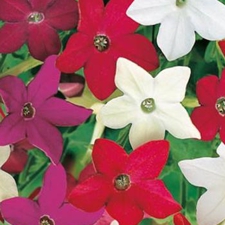 Notes: A bountiful mix of whites, pinks, purples and reds. Your olfactory senses will be delighted by its scented flowers, especially closer to the evening and just before it rains. A bright, visually pleasing addition to any cut-flower arrangement. Attracts pollinating insects, hummingbirds and butterflies.


Instructions: Do not cover. Germination 10 to 20 days. Easy to grow. Direct sow in mid Spring or start indoors for transplant in Spring.


Habitat: Nicotiana enjoys full sun and cool roots. Mulching to retain moisture will lengthen bloom time.


History: Native to Andes Region of Bolivia and Argentina.