Type:
Annual
Seed #:
98
Common Name:
Poker Statice
Latin Name:
Limonium suworowii
Variety:
Pink Flamingo
Colour:
Pink
Temperature:
18C - 22C (64F - 72F) (Zone 3)
Blooms:
July to September
Site:
Full Sun
Height:
50cm - 60cm (20" - 24")
Spread:
30cm - 35cm (12" - 14")
Quantity:
125 Seeds
Price:
$3.99

Attracts
Butterflies
Great
Cutflower
Drought
Tolerant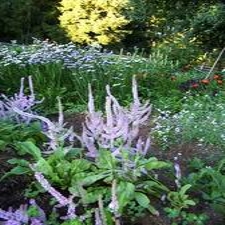 Notes: Russian Poker Statice is one of the easiest and best everlasting or dried flowers. It has a unique compact, multi-branched, pink flower spikes that will add grace and interest to any garden or floral arrangement. It is drought tolerant and withstands compact planting well, so mass plantings are encouraged.


Instructions: Sow 1 to 2 cm deep. Germination 10 to 15 days.